Most teams use 5+ different softwares daily and still struggle. We solved that – the team management software and productivity tool-kit you need to move in the right direction, dig deeper, and get more done as a team.


Scroll down to see how it works!
The Best Collection of Team Management Tools
As a leader you know what works for your team. Weekdone is here to streamline your existing processes and provide all the team management tools you need to do it.
Objectives and Key Results
Create goals to set the direction teams need to go towards for the quarter.
Team Meeting Dashboard
Review insightful weekly team reports and dashboards
Weekly Planning
Track weekly activities for a more visible & interconnected team.
Weekly Pulse Surveys
Review your week with 5-star ratings.
OKR Linking
Easily add weekly plans directly under Team Objectives
Reporting and Visualization
Visualize your team's alignment and progress.
Planning Templates
Set-up custom reporting templates.
Feedback and Recognition
Praise progress towards goals and boost morale.
KPIs
Keep key metrics and their status in front of everyone
Team Calendar View
See upcoming plans and activities and schedule meetings.
Prioritization
Organize and prioritize your activities.
One-on-Ones
Support and guide your team with personalized, private discussions
Initiatives
Stay up to date on initiatives with project status tracking.
Weekly Reports
Receive or download custom PDF/XLS reports
Slack and MST Integration
Integrations with the tools you already use
Newsfeed
Engage with your coworkers via the newsfeed.
Empowering People to do More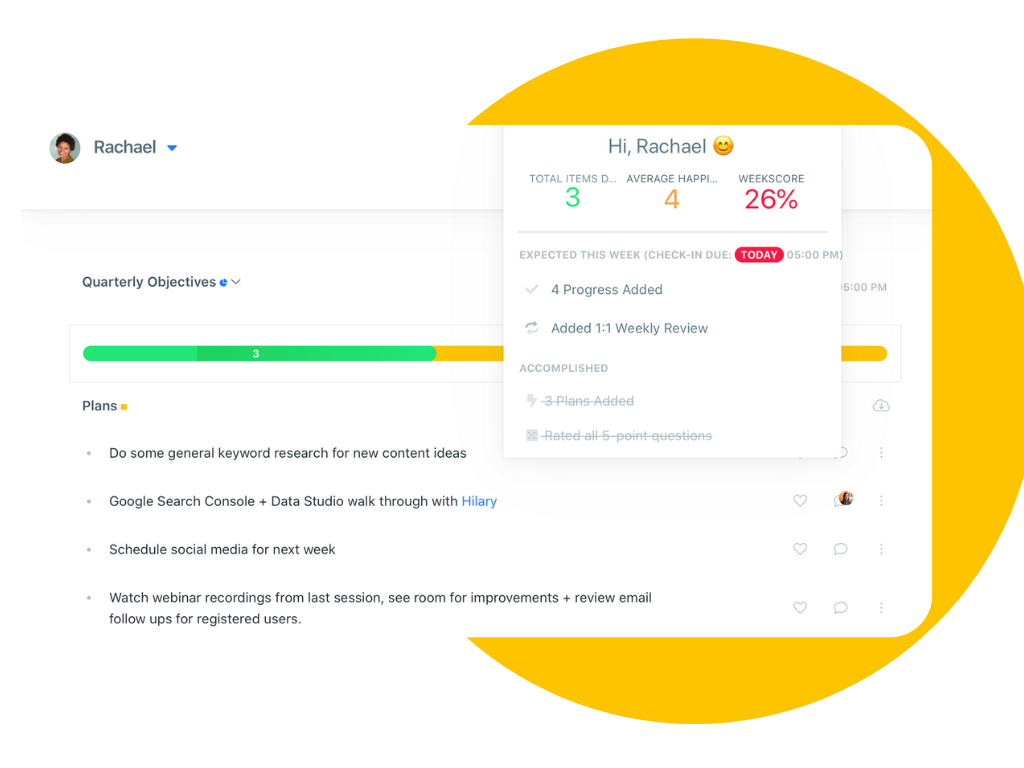 Nothing is more of a killjoy than software employees hate and managers love.

Weekdone puts people in the fore-front and helps employees plan their week, engage with their team, and reach out to leaders.

Powerful weekly planning and reflection tool
Easily see what everyone is working on
More autonomy and less micromanagement
Recognize teammates for a job well done
Integrations with the tools you already use (Slack, MS Teams, Jira, Asana, Basecamp)
Bring out the best in your team
Managing a Remote Work at Trendwatching
Our primary challenge of being in different locations and the need to be productive, was knowing what all the people are currently working on. Weekdone helped keep everybody to be aligned and in the loop.

Henry Mason, Managing Director
Bringing Visibility to Mavrck
"Weekdone has become an invaluable tool for knowing what is going on in the company without the need to dive into the details too often,"

Lyle Steven, CEO
Boosting Productivity at Wholefoods
We have found that Weekdone has improved our meetings – we are able to move to more strategic discussions since we can go to Weekdone to read our goals and accomplishments from the past week.

Michael Luther, Team Manager
We're Here to Help
Everyone, even our CEO, is happy to answer your questions & get you started. Contact us on live chat or write to info@weekdone.com — average 2 hour response time.